A&D Forensics is recruiting a Mid Level Compliance Officer for her 'Compliance as a Service' (Caas) Client, OBIEX.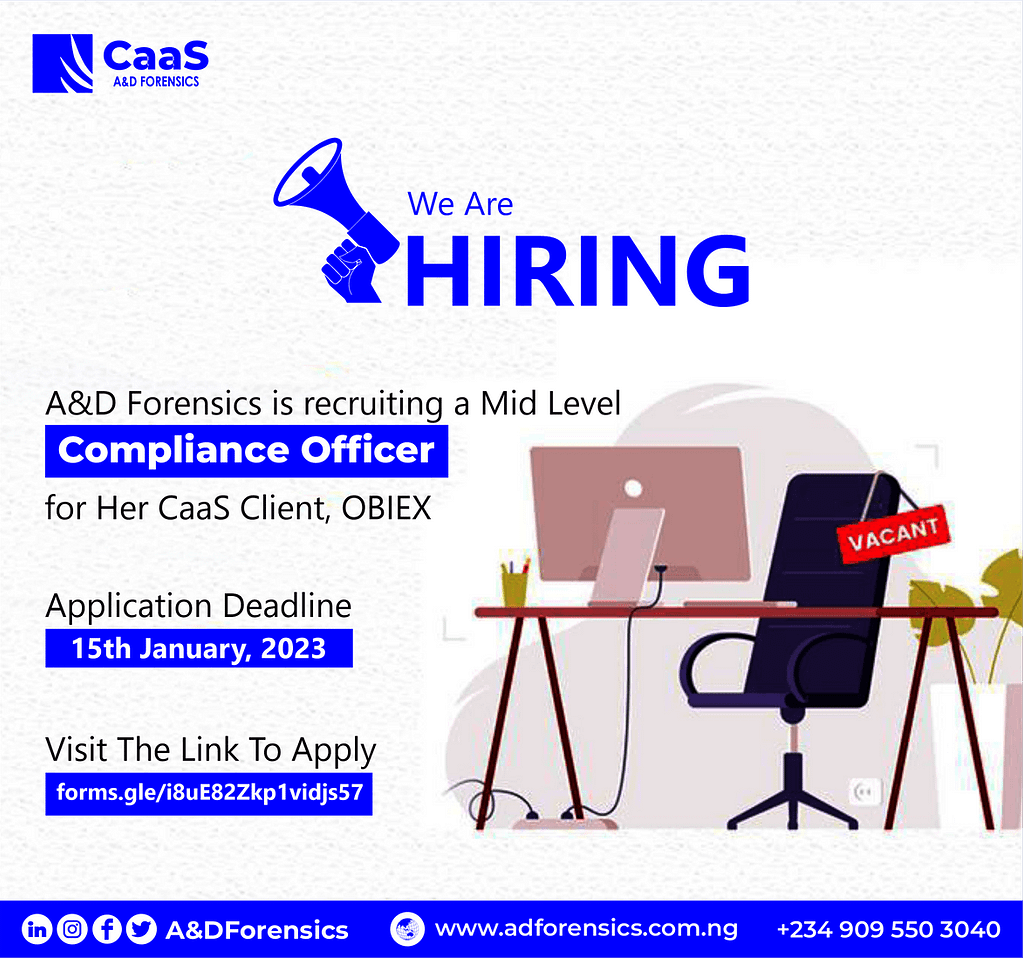 ABOUT OBIEX
Obiex Inc is a digital asset exchange and financial technology platform. At Obiex,  you are assured of a smooth cryptocurrency experience as the team will be with you every step of the way on your journey to financial freedom regardless of your experience and location. 
Obiex is on a mission to bring deep liquidity, excellent service and better price discovery to the market. With a focus on customer satisfaction, Obiex will provide you with the most fulfilling trading experience in the market. Thereby demystifying Crypto and the Blockchain technology with products that empower our customers to financial freedom.
For more information, please visit https://obiex.finance/
JOB ROLES OF PROSPECTIVE COMPLIANCE OFFICER AT OBIEX
The Compliance Officer will be responsible for supporting Obiex Inc in its regulatory compliance obligations, including the management of regulatory examinations and compliance independent reviews/external audits, preparing, and submitting regulatory reporting in support of various licenses, maintaining program documentation, and tracking and driving findings, recommendations, and observations.
In this role, you will support the exchange team in sustaining a world-class regulatory compliant regime, ensure robust policies and controls are in place across Obiex Inc businesses, and that the Company's activities are always in line with regulatory change.
Licensing
Assist with any license application processes in various jurisdictions where Obiex operates or Plan to operate in the future.
Assisting with regulatory license applications and acting as our regulatory liaison interacting with both internal (Legal, Compliance, ITSecurity, etc) and external (external counsel, consultants, etc) stakeholders to go through licensing applications, registrations and applicable reporting to regulatory bodies.
Ensure continuous compliance with licensing conditions.
Regulatory Compliance
Monitoring and reviewing all developments within the regulatory environment of the business in Nigeria and elsewhere where Obiex operates and actively developing technical knowledge in relation to the regulatory framework governing the company and its activities.
Preparing and implementing action plans to remedy any identified regulatory compliance shortfalls.
Ensuring that any updates to the legislative and regulatory framework within Nigeria and other operational jurisdictions are communicated to all stakeholders.
Perform any other duties and responsibilities required to ensure Obiex is compliant with applicable regulations and licensing conditions.
Internal Control
Overseeing the Compliance Policy implementation, identifying areas of non-compliance or partial compliance of the business through a GAP analysis of applicable laws and regulations.
Managing internal compliance operational controls and carrying out independent reviews and examinations as required.
Working with management and staff to ensure that the Obiex implements and maintains suitable systems and controls to meet the regulatory requirements.
Facilitating the development and maintenance of the appropriate compliance culture within the Company.
Reporting
Liaising with internal and external stakeholders to ensure accurate reporting to regulatory bodies.
Assisting with timely reporting and responding to law enforcement requests and inquiries.
Preparing compliance audit data by compiling and analysing internal information.
Assisting in responding to data requests from regulators.
Monitoring compliance and identify any breaches and escalate them to the Board of Directors.
Preparing a compliance plan on an annual basis and quarterly compliance reports to the Board of Directors.
AML
Investigating internal reports of known or suspected money laundering and/or terrorist financing activities.
Using cutting edge Cryptocurrency Investigating tools to investigate all forms of financial crime.
Working as AML and EDD lead to carry out the role effectively, including providing support, where needed, on EDD investigations.
Maintaining relationships with regulators and other relevant authorities.
Staying up to date/responding to consultations and guidance from NFIU and other regional FIUs and regulators (including the SEC and or the Central Bank of Nigeria) and others.
QUALIFICATION SKILLS FOR PROSPECTIVE OBIEX COMPLIANCE OFFICER
Locally recognized qualification/s related to the role. (CCCS, CFE, ACAMS etc)
Experience within the digital assets industry (cryptocurrency) is strongly preferred and advantageous.
Demonstrating an understanding of regulatory requirements vs. "best practices" in compliance is critical, coupled with the ability to distil and discern important information from regulatory guidance, statutes and regulations, audit findings, and determine how it impacts the business.
Excellent written, verbal and interpersonal communication skills and a proven history of working effectively with people at all levels both inside and outside the Company and within and across a decentralized international and matrixed environment.
Motivated and solution-oriented, with the ability to work successfully across multiple cultures and with demonstrated success working closely within a team as well as independently.
Perform and execute to a high standard autonomously with minimal supervision.
Demonstrated ability to execute under pressure whilst meeting deadlines. Must be adept at multitasking and able to adapt to changing priorities.
Deep understanding of the fintech industry and related products is required.
Experience interacting with local regulators is an advantage.
Educated to a degree level, or equivalent work experience.
A passion for new and evolving technologies, particularly in blockchain and its applications (cryptocurrencies)
Very good understanding of the blockchain technology
An IT background (such as a Degree in Information Systems) can be an asset
At least 2 years compliance experience in the financial industry or crypto/blockchain company i.e have worked within (i) a regulated financial institution (payment service provider / e-money) or (ii) a regulatory authority; or (iii) a law firm handling compliance matters relating to AML, and applicable payments services laws and regulations will be ideal
Fluent in English and French
Proactive and eager to learn
Analytical and methodological approach
Strong team player who enjoys to work in multicultural and technological environment
HOW TO APPLY TO BECOME A COMPLIANCE OFFICER AT OBIEX
To apply for the compliance officer job role at Obiex, kindly fill out this form: https://forms.gle/i8uE82Zkp1vidjs57.
You will also be required to fill in your cover letter and upload your CV within the form.
For further inquiries contact A&D Forensics via https://adforensics.com.ng/contact/