Cyber Security Awareness Month 2022: Enabling Multi-Factor Authentication
October has been #cybersecurity awareness month for the past 19 years since it was declared by the United States president and congress in 2004.
The theme for these years awareness as co-led by Cyber security and Infrastructure Security Agency(CISA) as well as National Cyber security Alliance(NCA) is #SeeYourselfInCyber, which primarily is asking every individual to be responsible in keeping safe while on the cyberspace (internet).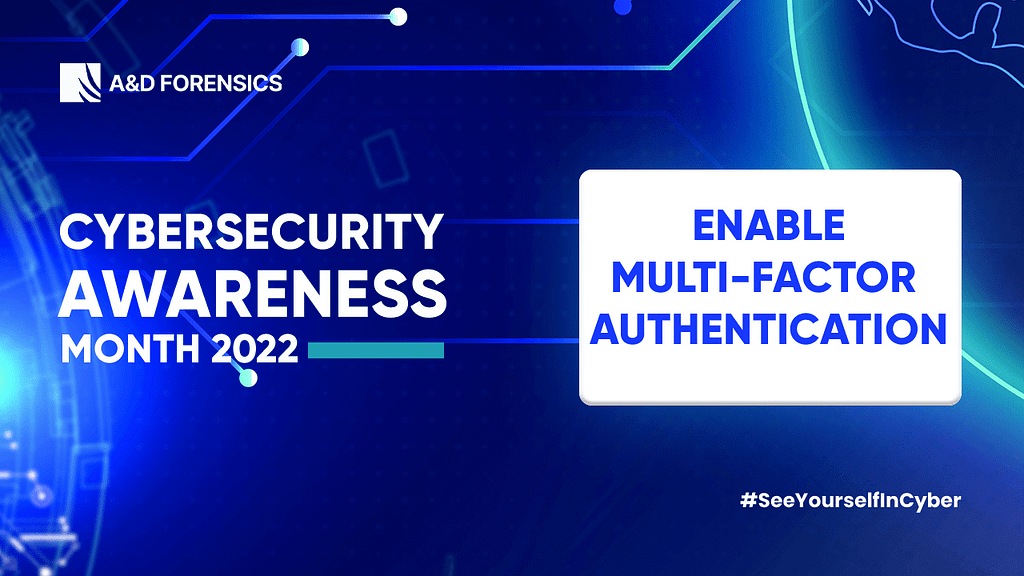 Four (4) Key Action to take
This year's theme focuses on four key points as highlighted by CISA, every individual and organisation is expected to adhere to these four actions in order to minimise the chances of being breached and ensure information security.
Enable Multi-Factor Authentication
Use Strong Passwords and Password Manager
Updating Software
Recognising and Reporting Phishing: (Think Before You Click)
Enabling Multi-Factor Authentication
Two-factor authentication or two-step verification are other names for multi-factor authentication, which is sometimes abbreviated as MFA. Whatever you choose to name it, MFA is a security mechanism for an account (social media, banking application etc. ) that necessitates several forms of identity verification for its user before they can be granted access.
The idea behind MFA is that, the channel you receive the information to verify yourself has to be personal (e.g an SMS to your personal phone, email ) You typically input your login and password before demonstrating your identification in another method, such as an SMS with random characters or string, which is the most popular and most used. It start with receiving a message or mail that contains random numbers or alphanumeric characters which is required to be inserted in an input box, sometime a fingerprint verification is also an option which is becoming widespread among digital asset wallets.
Though two-factor authentication does not guarantee 100% security(there is no such thing), as applications with this mechanism in place have been breached either due to an oversight in writing the code or a bad business logic vulnerability, when combined with other security measures, it does make it twice as hard for the adversary to breach your account or digital profile.
Always enable MFA to add an extra layer of security to your accounts and digital assets among others.
Be sure to catch up on the next issue listed.
#BeCyberSmart #SeeYourselfInCyber
Visit A&D Forensics for your Cyber Security and Digital Forensics needs.
Follow us on LInkedin, Twitter and Facebook.