Crypto compliance solutions are now available in the market as they provide useful tools for companies or start-up businesses to efficiently meet their regulatory requirements.
Hence, to be compliant, especially if your start-up business is operating with cryptocurrencies, it must implement several processes depending on the jurisdiction in which your business is located.
However, the following discussions in this article will help you discover what Crypto compliance means for your start-up business.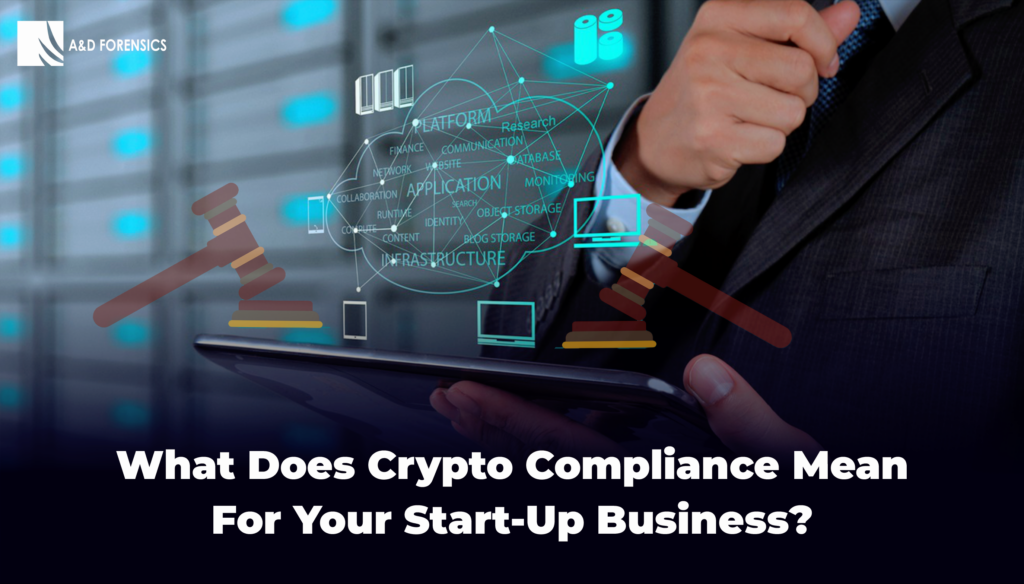 What is Crypto Compliance?
First of all, let's understand what cryptocurrency is.
Cryptocurrency popularly known as 'crypto' is a virtual currency that is secured by cryptography, which makes it nearly impossible for anyone to counterfeit.
Crypto Compliance on the other hand is basically process of achieving the standards stipulated by anti-money laundering (AML) rules, by putting in place the right tools and internal procedures to successfully reduce money laundering (ML) and terrorist financing (TF) using cryptocurrencies.
How does your start-up business become Crypto compliant?
Your start-up business can become Crypto compliant by adhering to Crypto AML rules. In adhering to these rules your start-up business must develop a 'customer due diligence' process to assist regulatory authorities in occasionally assessing your AML/CFT framework.
This means that your start up would need to build an effective compliance policy program. This entails proper risk assessment to determine your company's risk appetite as well as putting adequate measures to mitigate risks.
Your Start-Up business will need to build a compliance unit and employ certified crypto-compliance specialists to assist in the proper set-up of your compliance unit. By doing so, your start-up business will be prevented from having false positive results while engaging with blockchain analytic tools and will also be able to file suspicious transaction reports and suspicious activity reports when necessary.
Above all, while utilizing this kind of system, it is important that your staff are kept up to speed on AML laws and policies, as it will go a long way in preventing shortfalls in the whole compliance process, which ultimately safeguard against the failure of your start-up business.
How do you become a Crypto Compliance Specialist?
To become a Crypto compliance specialist, you need to have a background knowledge of blockchain, cryptocurrency and take a Crypto compliance certification course. Also a Bachelor's degree in any field and at least 3 years of general compliance experience within financial institutions or regulatory compliance is an added advantage.
5 Important Crypto Compliance Practices for your Start-up Business.
Given the regulatory uncertainty surrounding cryptocurrencies, it is important that your start-up business in this space understand their Crypto Compliance obligations.
Hence, we have enumerated five best key Crypto Compliance practices that your start-up business is expected to implement. They include: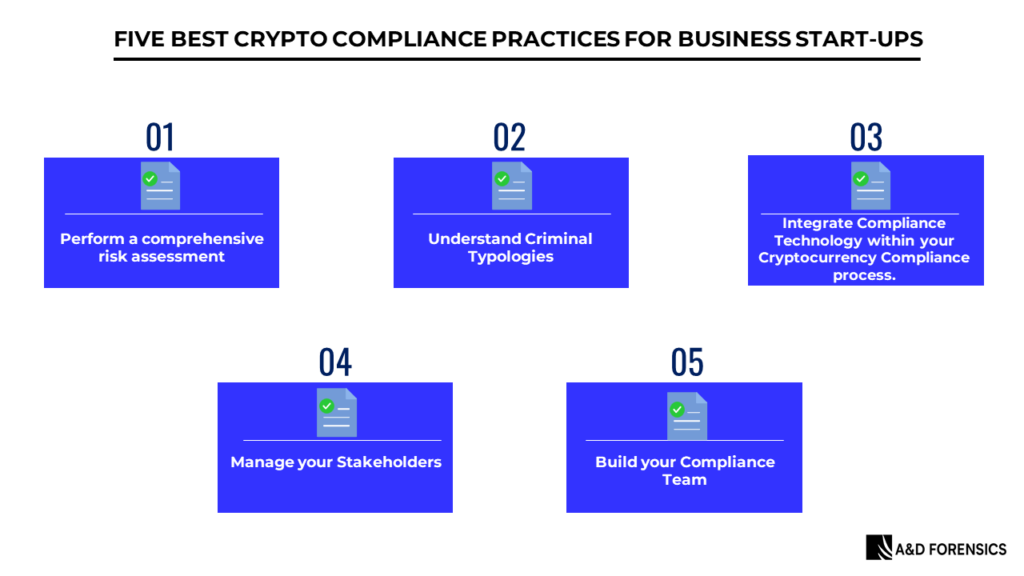 1. Performing a comprehensive risk assessment that was recommended by The Financial Action Task Force (FATF).
2. Taking a close understanding of criminal typologies and red flags by performing the Know Your Customer (KYC) process and adequate Identity verification .
3. Build a compliance team that would help spot any AML/CFT threats.
4. Integrate compliance technology within your cryptocurrency compliance process which includes the Travel Rule.
5. Ensure that every stakeholder in your compliance solution understands their roles and responsibilities.
Lastly, your start-up business should also seek to implement an internal training program to ensure that your compliance employees remain familiar with the latest AML/CFT best practices, criminal methodologies and incoming regulations.
How Can A&D Forensics Help?
A&D Forensics can help your start-up business stay ahead in their Cryptocurrency Compliance and Investigation career by taking their expert led certification courses.
In addition, consulting with the team and leveraging on cryptocurrency compliance tools and services like CaaS (Compliance as a service) by A&D Forensics can support your start-up business in its compliance journey and lessen the burden of crypto compliance on your start-up business.
Contributor: Loveth Odije