The Social Engineering cybersecurity webinar held on Thursday June 2022 by A&D Forensics was highly informative. The webinar was focused on empowering start-ups against social engineering. Our guest speaker, Dr. Muktar Bello, provided invaluable insights into the digital landscape and the crimes associated with it. In this blog post, we'll recap the key takeaways from the webinar, highlighting the importance of understanding cyber threats and implementing preventive measures.
Understanding the Digital Environment is essential for empowering yourself against social engineering.
The digital environment not only houses traditional crimes but also enables new forms of criminal activities. Some prevalent cyber-enabled crimes include online sexual exploitation of children, cybercrime, cyber terrorism, terrorism, modern-day slavery, cyber warfare, and business email compromise.
Distinguishing Cyber-Enabled and Cyber-Dependent Crimes
It's essential to differentiate between cyber-enabled and cyber-dependent crimes. Cyber-enabled crimes, such as cyberbullying, cyberstalking, and social engineering, rely on technology for execution. On the other hand, cyber-dependent crimes, like malicious software, distributed denial of service attacks, and business email compromise, are dependent on technology and cannot occur without it.
Understanding the The Role of Social Engineering as a Start-up Founder
Social engineering is a significant cyber-enabled crime that preys on human psychology. Examples of social engineering techniques include romance scams and phishing attacks. Understanding these tactics is crucial for you as a start-up founder to protect yourself, stakeholders, and staff.
To further explain social engineering as a crime, Dr. Muktar applied the Criminology Theory, RAT. The Routine Activity Theory (RAT) provides insights into the factors necessary for a crime to occur.
According to RAT, three elements must align for a crime to occur
A motivated offender: the person committing the crime
A suitable target: the business owner
Absence of a capable guardian: the lack of Preventive measures to protect you against Social engineering.
In the context of social engineering, start-ups need to be aware of potential motivated offenders, recognize themselves as suitable targets, and ensure they have effective preventive measures in place.
Strategies Against Social Engineering For Start-Ups
During the webinar, several strategies were highlighted to protect start-ups against social engineering attacks. These include: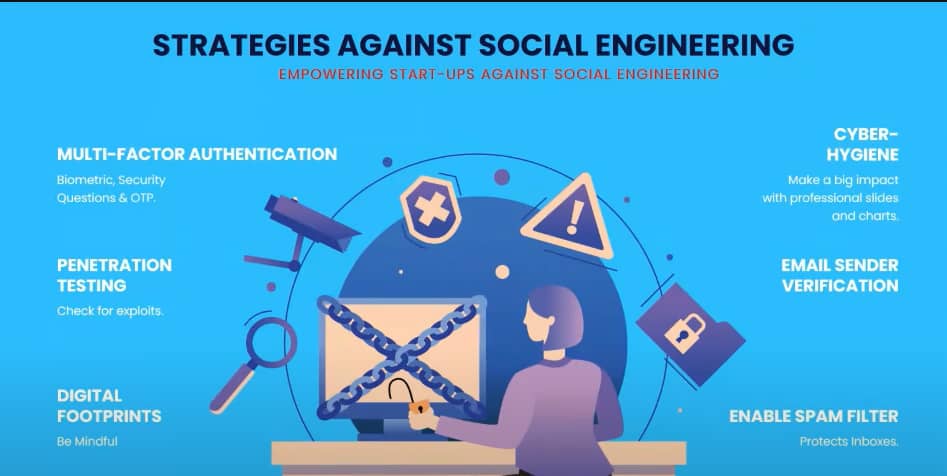 Multi-Factor Authentication: Implementing additional layers of authentication can significantly enhance security and prevent unauthorized access.
Penetration Testing: Regularly conducting penetration tests helps identify vulnerabilities in systems and networks, allowing for timely remediation.
Digital Footprints: Start-ups should be mindful of their online presence and manage their digital footprints to minimize the risk of social engineering attacks.
Cyber Hygiene: Practicing good cyber hygiene, such as regularly updating software, using strong passwords, and being cautious of suspicious emails or links, can significantly reduce the likelihood of falling victim to social engineering scams.
E-mail Sender Verification and Spam Filters: Employing sender verification techniques and enabling spam filters can mitigate the risk of phishing attacks and fraudulent emails.
Understanding National Cybersecurity Policies:
As a web 3 business owner, start-up, or founder in Nigeria, it is essential to familiarize yourself with the National Cybersecurity Policies. By understanding your responsibilities, you can ensure compliance and effectively protect your business against cyber threats. Remember, ignorance of the law is not an excuse.
Closing Thoughts
Dr. Muktar Bello concluded the webinar with a powerful reminder: The ABC of Cybercrime Investigations, "Assume nothing, believe nothing, check everything" when it comes to cybercrime investigations. This mantra highlights the importance of thorough verification and skepticism in today's digital landscape.
By implementing the strategies discussed in the webinar and staying informed about emerging cyber threats, start-ups can bolster their cybersecurity defenses and empower themselves against social engineering attacks.
To stay updated on future cybersecurity events and gain further insights, follow our social media channels and visit our website. Together, let's build a safer digital ecosystem for start-ups in Nigeria.
You can also watch a full video clip of the entire session on our YouTube page here: https://youtu.be/4pwwnVj9PcA