A&D Forensics has partnered with Infusion Lawyers to train Participants on Crypto Compliance and Investigations. The Partnership was signed this July between the two parties duly represented by Mr. Adedeji Owonibi, Senior Partner, A&D Forensics and Senator Ihenyen, Lead Partner, Infusion Lawyers.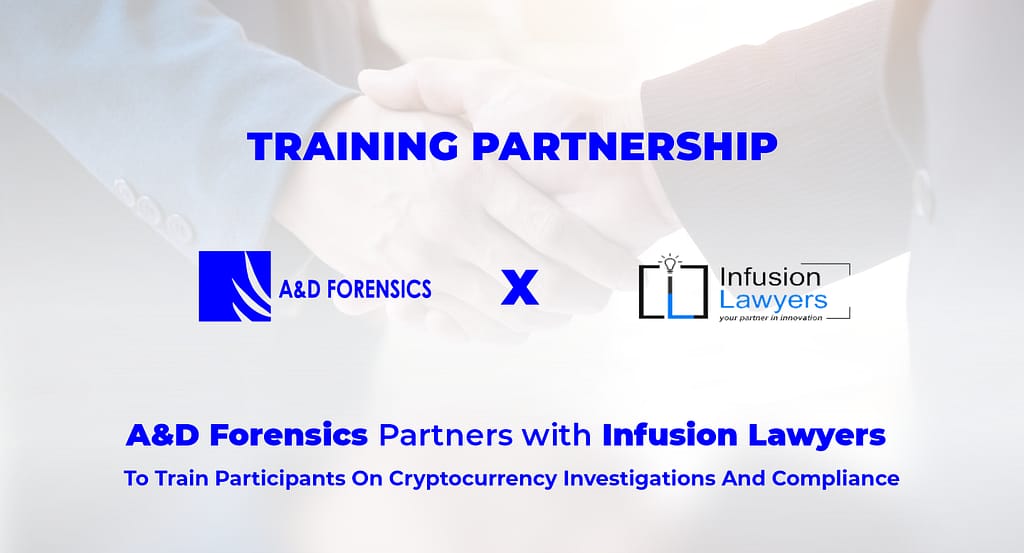 Navigating the Crypto Compliance and Investigations Landscape
A&D Forensics offers comprehensive training in Crypto Compliance and Investigations, covering two essential aspects of Blockchain Forensics.
Crypto Compliance focuses on adhering to anti-money laundering (AML) regulations and implementing the necessary tools and procedures to combat money laundering and terrorist financing in the context of cryptocurrencies.
On the other hand, Crypto Investigations involves conducting in-depth inquiries into cryptocurrency-related activities to identify potential illegal or suspicious behavior. This training equips participants with specialized blockchain forensic tools and traditional investigative techniques to trace and analyze the entire history of cryptocurrency accounts and transactions.
This Partnership Seeks To Empower Professionals in Crypto Compliance and Investigations
With the growing popularity of cryptocurrencies and the surge in cryptocurrency fraud, A&D Forensics has collaborated with Infusion Lawyers to expand access to Crypto Compliance and Investigations Trainings for participants. The CCI training from BIG will equip participants with the necessary skills to effectively trace and investigate cryptocurrency-related crimes. Additionally, the 3CS training offers practical guidance to compliance officers and aspiring crypto compliance officers on enforcing compliance, including adherence to the FATF Travel Rule, and implementing measures to safeguard cryptocurrency platforms from malicious actors.
Adedeji Owonibi, Senior Partner at A&D Forensics, stated, "Both Infusion Lawyers and A&D Forensics are devoted to equipping lawyers, fraud examiners, private investigators, law enforcement, and compliance officers with the best skills and approaches to mitigate fraud in both traditional finance and Web 3 Ecosystems." He further added, "By partnering with Infusion Lawyers, we are empowering professionals in crypto compliance and investigations within the African cryptocurrency ecosystem, enabling them to gain a comprehensive understanding of blockchain activities."
Senator Ihenyen, Lead Partner at Infusion Lawyers has this to say about the partnership: "Compliance plays a critical role in preventing and minimizing financial crimes. With the increasing adoption of cryptocurrencies with its associated risks, taking compliance seriously within and outside the financial services sector has become paramount. And this is why as a pioneer law firm in the blockchain space in Africa, we at Infusion Lawyers are delighted with our partnership with A&D Forensics, a leading blockchain intelligence and training service provider. With this partnership, we are bringing A&D Forensics' Certified Cryptocurrency Compliance Specialist (3CS) course and the Blockchain Intelligence Group's Certified Cryptocurrency Investigator (CCI) course, particularly to compliance and noncompliance officers in Nigeria and across Africa".
About A&D Forensics
A&D Forensics is Africa's leading blockchain intelligence service provider. As a blockchain & digital forensic firm, A&D Forensics provides comprehensive, world-class, affordable, value-adding professional blockchain forensic services to clients. The Blockchain Intelligence Service Provider, which is Chainalysis's Africa's first investigative partner has also partnered with more blockchain analytic firms like Blockchain Intelligence Group (BIG), Coinfirm etc, for Crypto Compliance and Investigation Trainings and Solutions.
Before now, A&D Forensics has trained Law Enforcement Agents, Private Investigators, Auditors, Fraud Examiners and Compliance Officers on Cryptocurrency Compliance and Investigations. These trainings include the Certified Cryptocurrency Investigation Training, CCI from our partner Blockchain Intelligence Group and the Certified Cryptocurrency Compliance Specialist Course, (3CS), are offered on-site while leveraging on the different blockchain analytic tools at A&D Forensics Lab. In order to expand these trainings across more Fraud Examiners, Law Enforcements, Lawyers, Investigators and Participants, A&D Forensics partnered with Infusion Lawyers. For more information about A&D Forensics, visit: https://adforensics.com.ng/about/
About Infusion Lawyers
Infusion Lawyers is a unique and forward-thinking law firm that harnesses the power of Information Technology (IT) and Intellectual Property (IP) to empower tech entrepreneurs, innovators, and startups. By combining these two potent tools of the 21st century, they unlock new possibilities and unleash the full potential of their clients. As IP & IT Lawyers, Infusion Lawyers navigate the dynamic challenges and opportunities present in today's digital age. They serve as a virtual law firm, specializing in intellectual property and information technology law, catering to the needs of the knowledge economy. For more information about Infusion Lawyers, visit: https://infusionlawyers.com/about-us/
Media Contact for A&D Forensics
Blockchain Forensic Specialist
chioma.onyekelu@adforensics.com.ng
Media Contact for Infusion Lawyers:
Lead Partner- Infusion Lawyers