Ordinals Finance, a decentralized finance (DeFi) protocol built on the Ethereum Network which allows users to lend and borrow inscriptions, has been confirmed by Certik, to have performed an Exit Scam.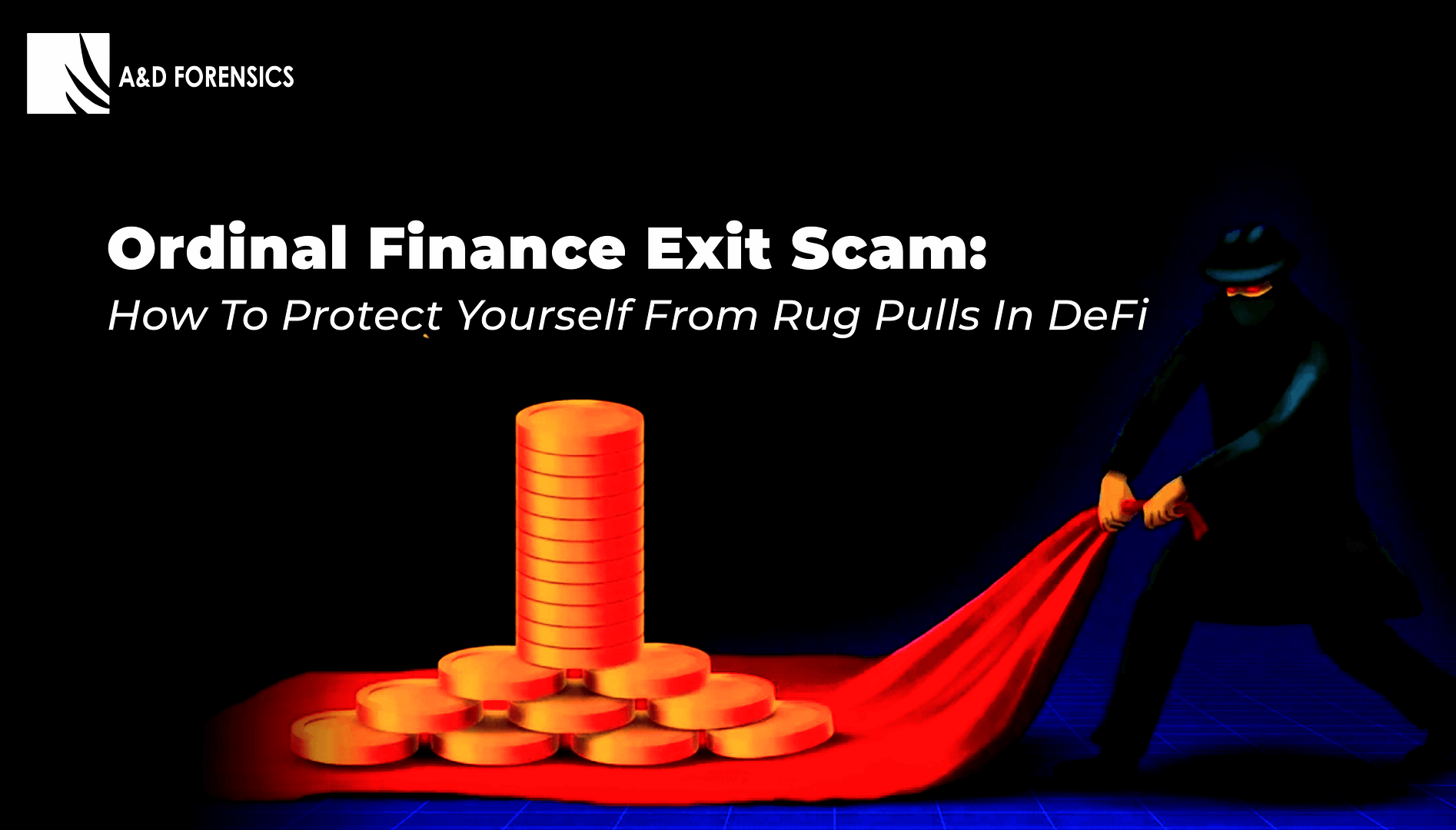 The DeFi space has revolutionized the traditional financial system, providing a decentralized alternative to centralized finance. However, the rising popularity of DeFi has also attracted fraudsters who prey on unsuspecting investors. With the latest Rug Pull on Ordinal Finance that resulted in a total loss of $1 million, there is a need for DeFi users to be aware on how to stay protected from becoming Rug Pull victims.
About Ordinal Finance
Ordinal Finance was a Decentralized platform that enabled users to lend and borrow Inscriptions in a secure and trustworthy manner. The project appeared in late February and promised to assist in the development of a DeFi ecosystem on the Bitcoin blockchain, but was short-lived. The platform has a native token, OFI token which some investors bought and traded on different platforms like Uniswap and Bilaxy as seen on Coinmarketcap and the image shown below. However, on April 24th, 2023, the platform abruptly shut down, and its website and social media accounts were deleted.

Blockchain Explorer, Etherscan Reveals details about the Ordinal Finance Rug Pull
According to blockchain data, the deployer removed OFI tokens from the OEBStaking contract, 0x419E35E3515c2fDB652C898bF7A0B21FB20497dC and swapped them for ETH. The Ordina Finance deployer account, 0x905bb31444b533c1e770e8a018256775c2fc7f6e used the safuToken function to withdraw more than 256 million OFI tokens for about $1 million worth of ETH on April 24. These funds allegedly went through several transactions before being transferred to a different Ethereum account and then into tornado cash mixer.
Coinmarket Cap Warns Investors of Ordinal Finance Token Trades after the Rug Pull
CoinMarketCap has put up a statement to warn investors of the Exit Scam on the Ordinal Finance protocol. This can be seen as a warning message on the Ordinal Finance's token page on CoinMarketCap. The statement reads "Deployer has removed OFI tokens from the staking contact and swapped them for ETH. The website and all social media channels have been deleted as well. Exercise caution while trading and always DYOR."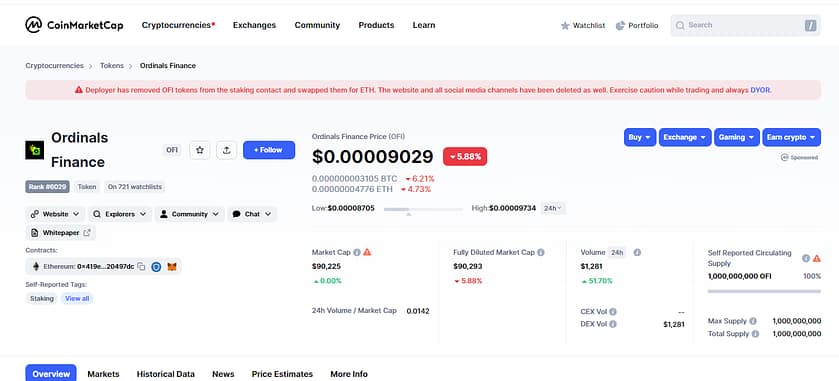 How To Protect Yourself From Rug Pulls in DeFi
Rug pulls are unfortunately becoming common in the DeFi space. Rug pulls occur when developers of a DeFi project deceive investors into investing in their platform, only to disappear with their funds.
Hence, to avoid becoming a victim of a rug pull, as an investor, you must do your due diligence before investing in any DeFi project. You should research the team behind the project, the platform's security measures, and its transparency. Additionally, it is wise not to invest more than what you can afford to lose, as rug pulls can wipe your entire investment in a matter of seconds.
Generally, as an investor, be wary of projects that promise high returns with little effort, as these are often red flags for potential scams. You should also avoid investing in projects with low liquidity or suspicious tokenomics, as these could indicate that the project is not sustainable.
Conclusion
In conclusion, the Ordinal Finance exit scam is a sobering reminder that the DeFi space is not immune to fraudsters. Exercise caution as a Crypto Investor and do your research before investing in any DeFi project. By staying vigilant, you can protect yourself from rug pulls and other forms of exit scams.
At A&D  Forensics, we trace and investigate cryptocurrency related crimes. Follow us on our social media platforms for more blockchain security tips. 
Contributor: Loveth Odije