A scheme known as Forsage operating in the USA and other nations which has successfully garnered more than $300m has been charged by the Securities Exchange Commission SEC for operating a Ponzi scheme.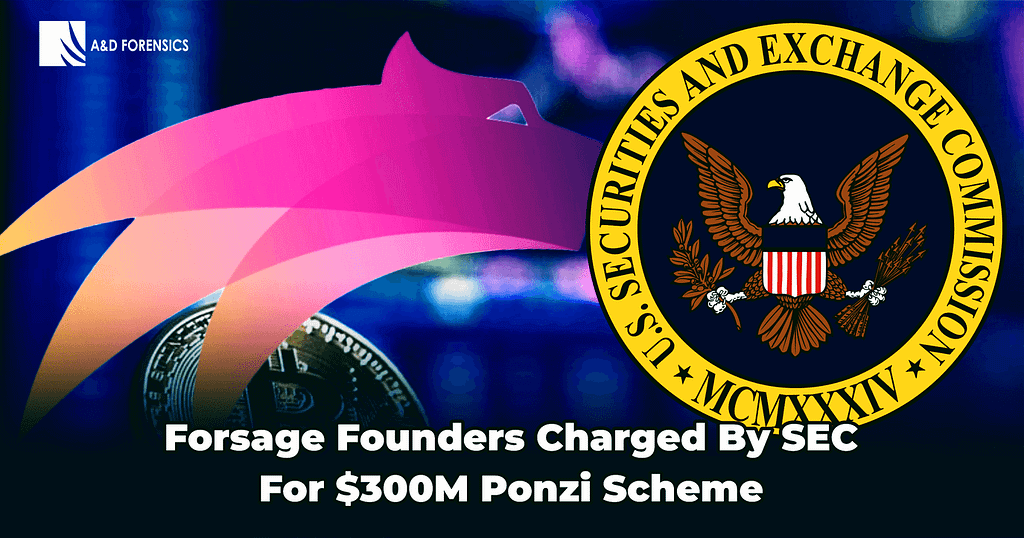 Three US-based promoters, promoting the scheme were charged alongside the four founders Vladimir Okhotnikov, Lola Ferrari, Mikhail Sergeav and Sergey Maslakov who investigators believe are residing in Russia, the republic of Georgia and Indonesia. A total of 11 individuals were charged for their roles in promoting the fraudulent crypto pyramid and Ponzi scheme known as Forsage.
In January 2020, Forsage was launched by Vladimir Okhotnikov, Lola Ferrari, Mikhail Sergeav and Sergey Maslakov as a website that allowed millions of retail investors to enter into transactions via smart contracts that operated Ethereum, Tron, and Binance blockchain. Nonetheless, SEC reports that Forsage has operated a pyramid scheme for more than 2 years which encourages investors to recruit others to earn profits. Also, Forsage has allegedly used assets from new investors to pay earlier investors in a typical Ponzi scheme.
Despite cease-and-desist actions issued to Forsage for creating and operating a fraudulent scheme by the SEC Philippines in September 2020 and the Montana Commissioner of Security and Insurance in March 2021, the defendant allegedly continued to promote the scheme while denying via social platforms SEC claims.
The SEC complaint seeks injunctive relief, disgorgement and civil penalties against the four founders and seven individuals of Pelanatchie, Coeur d' Alene, Louisville, Henrico, Chicago, Dunedin and Hartford in a compliant file in the US district court of Northern Illinois for violating antifraud provisions. Two defendants neither admitted nor denied the allegation but agreed to settle the charges for disgorgement and civil penalties.
SEC CLAIMS THAT FORSAGE ISSUED SECURITIES
The SEC has been extremely clear on  digital assets qualifying as securities if they pass the Howey test. Hence, Forsage Founders were charged by SEC for issuing securities and not registering with the commission.  According to the Howey test, an "investment contract" arises wherever funds are invested in a joint venture with a reasonable expectation that benefits will result from others' efforts.
Slots owned by investors in Forsage's smart contracts, along with the rights of those investors to compensation from sales of those slots and profit sharing from spillover payments made through those slots, were investment contracts that qualified as securities and whose offer or sale was neither exempt from registration under federal securities laws or registered with the Commission as required.
Using Ethereum, Tron, or Binance tokens, investors made a financial commitment to a shared venture with the expectation that earnings would only come from the labor of the defendants or other third parties.
In addition, the Founders coded one of Forsage's smart contracts on the Ethereum blockchain (Forsage xGold) to divert a portion of investor funds to a crypto-asset wallet that was not associated with a Forsage ID assigned to any investor, hence a fraudulent act.
CONCLUSION
As a result of the conduct alleged in this Complaint, Defendants violated Section 5 of the Securities Act of 1933 ("Securities Act"), 15 U.S.C. § 77e; Section 17(a) of the Securities Act, 15 U.S.C. § 77q(a); and Section 10(b) and Rule 10b-5 of the Securities Exchange Act of 1934 ("Exchange Act"), 15 U.S.C. § 78j(b), 17 C.F.R. § 240.10b-5. Unless restrained and enjoined, defendants are reasonably likely to continue to violate the federal securities laws.
Do you need assistance with Cryptocurrency Investigations? At A&D Forensics, we trace and investigate blockchain and cryptocurrency related crimes. Open a Cryptocurrency Investigation case with us here.