On Monday, August 8, 2022, the  United States Office of Foreign Assets Control (OFAC) added Tornado Cash Mixer to its  Specially Designated Nationals (SDN) List. Over 7 billion dollars have been laundered using TornadoCash since its launch in 2019 and roughly 500 million of these laundered funds were linked to the North Korean hacker group, LazarusGroup.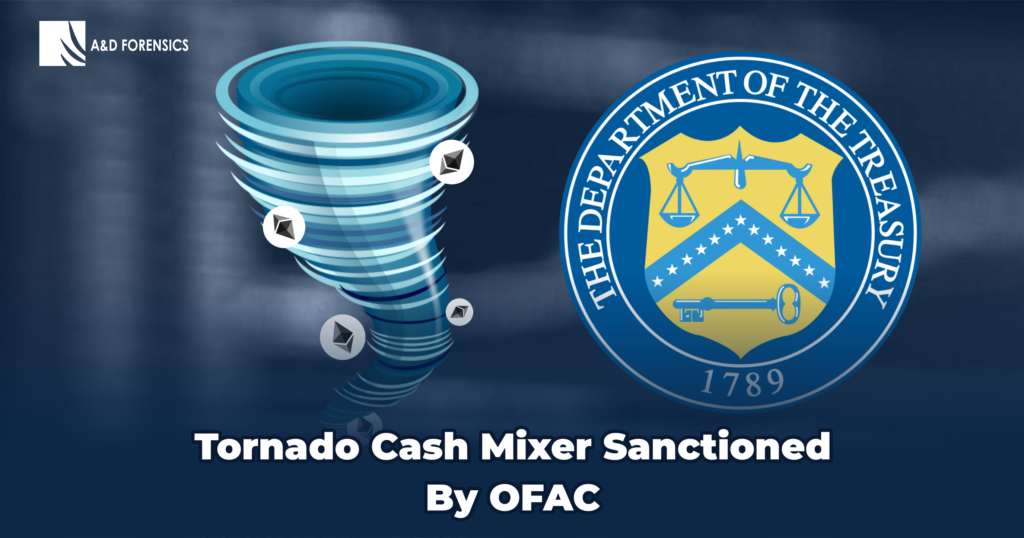 What is Tornado Cash Mixer?
Tornado Cash Mixer is a non-custodial mixer built on the Ethereum blockchain. It is a smart contract mixer where users can conceal their ETH transaction history and conduct private transactions on the Ethereum Blockchain.
In general, Crypto mixers are services that combine a specific amount of cryptocurrency in exclusive pools before sending it to the intended recipients. It combines various cryptocurrency funds which could be tainted with others so as to hide the origin.In addition to preserving privacy, mixing can be used to launder money by combining funds that were obtained unlawfully.
How does the Tornado Cash Mixer Work?
With the Tornado Cash Mixer, users send the cash they need to combine to the Tornado Cash smart contract. Next, they will  receive a cryptographic note that they may use to submit a transaction referencing to withdraw their combined funds to a new address.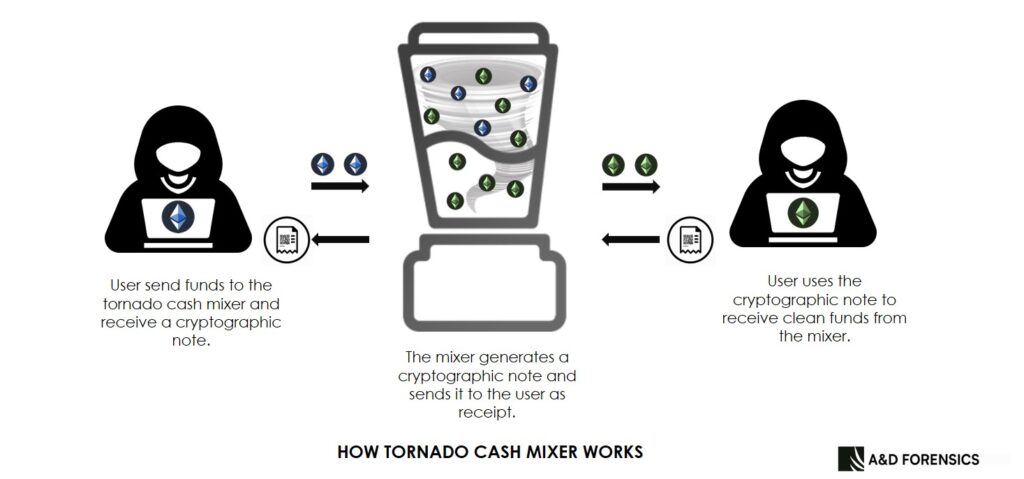 After transferring mixed funds to Tornado Cash, users can take their time receiving them. The mixer even includes a feature that sends "clean" Ethereum to the user's withdrawal address so they can pay any necessary gas fees without taking the risk of funding the withdrawal address.
According to Chainalysis Inc., "Tornado Cash has been used to launder funds from every hack conducted by North Korean-linked hackers this year." — Chainalysis (@chainalysis) August 8, 2022
What is the significance of sanctioning Tornado Cash Mixer?
Sanctioning Tornado Cash Mixer simply means that the 44 blockchain addresses associated with the mixer must be blocked and prevented from further transactions. In addition, U.S. individuals, organizations, and/or enterprises must immediately cease doing business with the "Tornado" addresses mentioned on the SDN List.
In addition, all linked properties and interests located in the U.S. must be blocked and reported to OFAC. Hence, any individuals, organizations, or companies that conduct any type of business with these sanctioned parties or addresses run the risk of enforcement, which could result in civil and criminal fines.
According to OFAC, "The ultimate goal of sanctions is not to punish, but to bring about a positive change in behavior".
What the Tornado Cash Mixer Sanction means to Cryptocurrency Investigators.
One of the challenges faced by cryptocurrency investigators is the use of crypto mixers to obfuscate transactions. It is challenging to identify specific coin origins because they are all pooled together and then distributed at random intervals. Hence, it's important to have mixing services regulated to aid cryptocurrency investigations. This will help to curb the use of mixing services in numerous cryptorelated crimes such as hacks and phishing schemes.
Earlier this year, one of the founders of the Tornado Cash Mixer claimed that it is "technically difficult," to impose sanctions against decentralized protocols like the Tornado Cash Mixer because of the way those protocols are created.
However, with this new development, blockchain analytic firms like: chainalysis, blockchain intelligence group, anchain etc will be able to attribute the sanctioned wallets in their blockchain analytic tools. By doing so, Cryptocurrency Investigators will be able to follow transactions to, from, and through the sanctioned addresses, hence giving the funds visibility to assist in criminal investigations.
CONCLUSION
As a Crypto asset user, Virtual Asset Service Provider or a Money Service Business, you are encouraged to have a Compliance and control set up in your financial institution to avoid transacting with the sanctioned addresses. Failure to do so can lead to civil and criminal fines which can tarnish the reputation of your firm.
A&D Forensics can assist you in setting up your compliance unit as well as trace and investigate cryptocurrency related crimes. Contact us today for further inquiries on our compliance and investigation services.