Know Your Business (KYB) is an important process to Web 3 Business Owners. Since the primary objective of Web 3 Business owners is to maximize profits while minimizing risks , a proper Know Your Business (KYB) verification process is needed. This process helps to mitigate cryptocurrency related fraud and financial crimes.
In this article, we will define Know Your Business (KYB) , explain the different steps involved in KYB Verification, and its importance to the growth of your Web 3 business.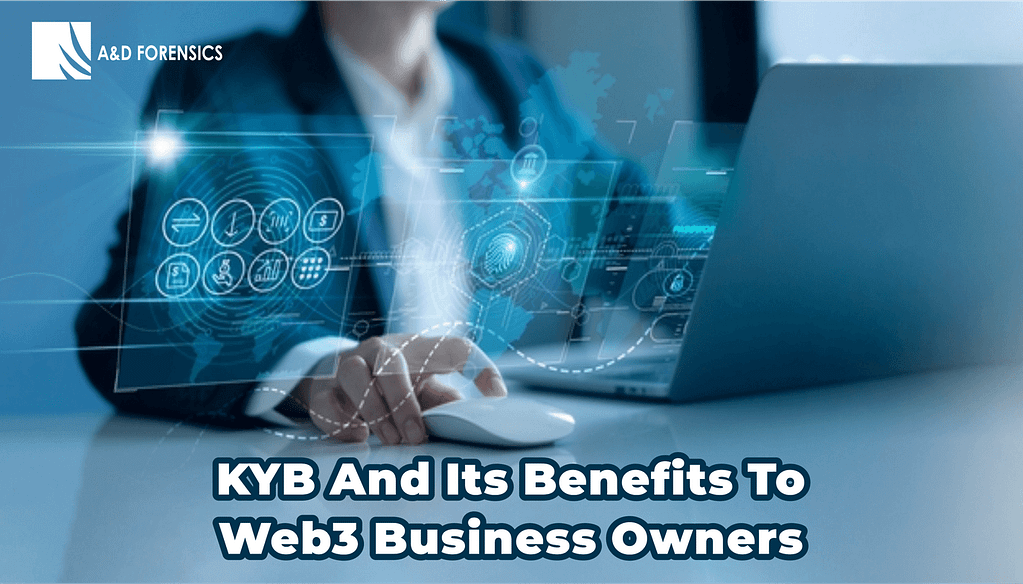 What is Know Your Business (KYB)?
Know Your Business (KYB), is the process of confirming the legitimacy and trustworthiness of another company you intend to do business with. It involves verifying the legitimacy of any business and the core personnels. The core personnels include the owners and major stakeholders of the business, as well the suppliers, consultants and customers.
Hence, KYB verification is the process of verifying the identity of a business and its owners, directors, and other associated parties.
Comparing KYB to KYC
The Know Your Customer (KYC), and the Know Your Business (KYB) verification processes are quite similar to one another.
KYC (Know Your Customer or Client) is the mandatory process of verifying the identity of new customers, to verify who they say they are before giving them access to the services they need.
Hence, the difference between KYC and KYB is that KYB puts businesses and suppliers first before turning its attention to consumers or clients.
In any case, any financial institution, business owner or Web3 startup that handles money transactions is required to verify the KYB of the businesses it does business with.
KYB Verification in Different Jurisdictions.
According to Sumsub's KYB guide, different jurisdictions were analyzed according to their verification process. Since KYB Verification is a critical part of compliance with anti-money laundering (AML) and counter-terrorism financing (CTF) regulations, many regions, including the United States, the European Union, and Asia have different regulatory bodies that ensure KYB compliance.
Some jurisdictions analysed by Sumsub were:
1. KYB in USA: In the United States, business verification regulations are enforced by the Financial Crimes Enforcement Network (FinCEN), a bureau of the U.S. Department of Treasury. Hence, businesses must comply with the Bank Secrecy Act (BSA), which requires financial institutions to implement a KYB program to identify and verify the identity of their customers.
2. KYB in the European Union: Businesses must comply with the Fourth Anti-Money Laundering Directive (AMLD4), which mandates the implementation of a KYB process. Following the adoption of AMLD5 and AMLD6 in 2018 and 2021, respectively, the directive's scope was widened.
Furthermore, Customer due diligence (CDD) measures must be implemented by a regulated organization. Hence, these organizations must create a risk-based strategy to AML/CTF and regularly monitor customers for aberrant behaviors.
3. KYB in Asia: Countries such as Singapore, Hong Kong, China and Japan have also implemented KYB regulations to combat money laundering and terrorist financing. In as much as their compliance requirements are generally similar, the regulators for each of these countries differ.
For instance, The main overseer of KYB regulations in China is the People's Bank of China (PBOC). However, In India, The Prevention of Money Laundering Act (PMLA) and the Prevention of Money Laundering (Maintenance of Records) Rules are enforced by the Reserve Bank of India (RBI) to ensure businesses are KYB compliant.
Also, In South Korea, audits of businesses are carried out by the Financial Intelligence Unit (FIU) and the Financial Supervisory Service (FSS) . Lastly, in Singapore , companies must abide by the Money-Changing and Remittance Businesses Act and the Financial Institutions (Prevention of Money Laundering and Terrorist Financing) regulations, according to the Monetary Authority of Singapore (MAS).
Ultimate Beneficial Ownership (UBO) as a Key Element In KYB Process
One key element of KYB verification is identifying the ultimate beneficial ownership (UBO) of a business. UBO refers to the person or entity that ultimately owns or controls a business. Identifying the UBO is crucial because it helps to prevent the use of shell companies to hide illegal activities such as money laundering or terrorism financing.
UBO can be identified via voting rights, ownership interest, shareholder percentage, or indirect control ranging from 10 to 25%, depending on the jurisdiction.
It can be challenging for businesses to actually identify UBOs. Hence, a proper KYB and crypto compliance solution is required. The following documents are often gathered to verify the UBO:
Passports
Proof of Address document
A power of attorney or a trust statement, when required.
Lastly, the UBO should also be examined and screened for inclusion in designated or sanctioned lists.
Steps Involved in  KYB Verification
KYB verification involves several processes, these includes
Collecting company data:
This is the first step of the KYB Verification Process. Collecting the data of the company allows you to identify the company and understand the company's background and history. Some data to be collected include: business name, registration number, date of incorporation, and registered address as well as lists of top management.
Collecting business documents from the company
This process helps you to confirm that the company exists and creates a comprehensive picture of its legal status and corporate structure.
Verifying UBOs
This is an important step to identify the real owners and their legal status. FinCEN emphasizes the importance of making sure UBOs are not "nominees". UBO Verification process involves collecting identifying information such as names, addresses, and government-issued identification documents. Then your company's KYB provider or tool verifies this information using various sources, including public records, government databases, and credit bureaus.
Defining the nature of a proposed business relationship
This step is to ensure that the company is financially stable and has a good economic standing.
Performing risk-based analysis
A Risk-Based Analysis helps you to identify future suspicious activities and mitigate them.
Performing AML screening and On-going Monitoring
This process is to comply with AML regulations, identify PEPs, and prevent money laundering and terrorist financing schemes. This involves regularly reviewing the business's transactions and activities to detect any suspicious behavior that may indicate money laundering or terrorism financing.
Maintaining the required records
This is necessary to To comply with data collection and reporting regulations
Pitfalls of KYB Verification Workflows and the Way Out
While implementing a KYB process can be beneficial, there are some potential pitfalls that businesses should be aware of.
1. KYB verification can be time-consuming and expensive, particularly for businesses with complex ownership structures or multiple associated parties.
2. There is a risk of false positives, where a legitimate business is flagged as suspicious due to incomplete or inaccurate information. This means that Businesses must consider data privacy, as well as handling and storing customer information
in a secure and compliant manner.

3. Finally, KYB regulations and requirements can vary significantly between regions, making it challenging for businesses to comply with all applicable regulations.
To overcome the above listed pitfalls in the KYB Verification process, Business Owners and Web 3 Startups should leverage on appropriate industry leading tools. Some KYB tool providers like Sumsub, Sanction Scanner, Au10tix, Shuftipro etc can assist you. However, to have easy access and leverage on these tools as a Web 3 Start-Up or Business Owner, the Compliance as a Service (CaaS) solution by A&D Forensics can help you.
3 KYB Benefits To Business Owners
As a Business Owner, Implementing a KYB process can have several benefits for your business. Some of the benefits are:
1. KYB helps your business to reduce the risk of financial crime, which can result in reputational damage and legal consequences.
2. KYB can improve your business's access to financial services by increasing your trustworthiness and credibility with financial institutions.
3. A Proper KYB verification process can streamline the on-boarding process for new customers, making it faster and more efficient.
Conclusion:
Implementing a KYB verification process is essential for your  business to maximize profits while minimizing risks. By identifying the UBO of a business, verifying the identity of its owners and associated parties, and conducting on-going monitoring, your  businesses can reduce the risk of financial crime and improve your access to financial services. 
While there are potential pitfalls to KYB verification workflows, the benefits of implementing this process with a reliable solution provider is absolutely important. Hence, A&D Forensics has partnered with reputable and adequate KYB tools to deliver a seamless KYB Verification Process to Business Owners and Web 3 Start-Ups through its Compliance as a Service (CaaS)Solution.
To learn more about CaaS, contact us here: https://adforensics.com.ng/contact/
Contributor: Justina