On Tuesday, 28th March, Members of the European Parliaments, MEPs approved new laws to strengthen European financial supervision. The new approved laws will help to fight against money laundering, terrorist financing, and evasion of sanctions in the EU financial markets.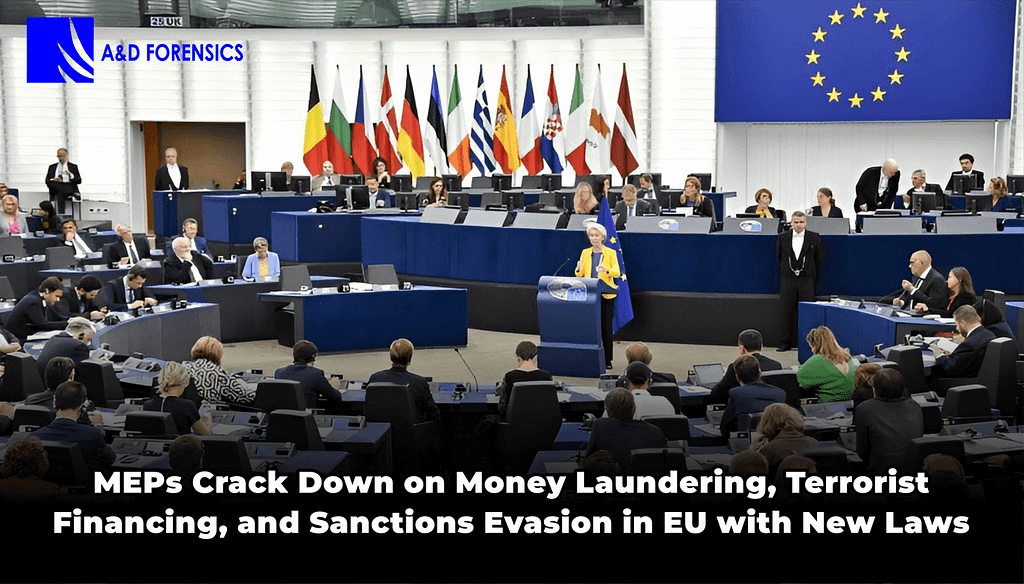 MEPs Drafted the New EU Laws in 3 Pieces:
The new laws adopted by the council were drafted in three pieces: the EU "single rulebook" – regulation, The 6th Anti-Money Laundering – directive, and the regulation establishing the European Anti-Money Laundering Authority (AMLA).
The EU "single rulebook" regulation: The new rule adopted with 99 votes to 8 and 6 abstentions requires businesses to check their customers thoroughly, reveal who benefits from their services, and disclose the use of anonymous instruments like crypto-assets. They also regulate new crowdfunding platforms and prohibit the issuance of "golden" passports and visas.
The 6th Anti-Money Laundering Directive was adopted with 107 votes to 5 and 0 abstentions. It includes national provisions on supervision, Financial Intelligence Units, and access for competent authorities to necessary and reliable information, such as beneficial ownership registers and assets stored in free zones.
The European Anti-Money Laundering Authority (AMLA) was created with supervisory and investigative powers to enforce AML/CFT rules. The regulation was adopted with 102 votes in favor, 11 against, and 2 abstentions.
MEPs impose €1,000 Limit on Anonymous Crypto Transactions
MEPs aim to limit the acceptance of payments for goods and services by capping cash payments at €7000 and crypto-asset transfers at €1000 when the customer's identity is unknown.
In addition, MEPs seek to ban "golden passports" and enforce strict anti-money laundering measures on "golden visas" due to the high risk of misuse by criminals.
MEPs Ask Member States To Set Up Financial Intelligence Units
To prevent and combat money laundering and terrorist financing, MEPs asked each member state to set up a financial intelligence unit (FIU). These units must exchange information with each other and other relevant authorities, including AMLA, Europol, Eurojust, and the European Public Prosecutor's office.
In addition, to detect and prevent money laundering schemes, MEPs want national financial intelligence units and other authorities to have access to information on beneficial ownership, bank accounts, and land or real estate registers.
Additionally, MEPs want information on the ownership of high-value assets such as yachts, planes, and cars worth over €200,000 and goods stored in free zones. Beneficial ownership is defined as having a 15% plus one share, voting rights, or other direct or indirect ownership interest, or a 5% plus one share in the extractive industry or a company at a high risk of money laundering or terrorist financing.
Statements from the MEPs Law Makers
However, to fulfill these new laws, one of the MEPs, Eva Maria Poptcheva, (co-rapporteur AMLA renew ES) said "we cannot tolerate the corrupting influence of dirty money in our political systems any longer." In the wake of Qatargate, Parliament heard the message loud and clear. Saying: "dirty money is not just a threat to our democracy, but fuels inequality and injustice. Hence, putting ordinary citizens in traumatized state after struggling to make ends, while criminals prosper with the complicity of systemic corruption"…
She stated that AMLA is the game-changer needed, and with it the EU can end the economic nationalism that has fuelled this laundromat.
What do you think will be the next step of the MEPs as regards the negotiation on the new laws? How about the EU's legislation to impose a €1,000 limit on crypto transactions where the customer cannot be identified?
You can let us know in the comments.
At A&D Forensics we bring you updates on crypto compliance and regulatory updates. Follow us to learn more.
Contributor: Loveth Odije